Yukutan Press March 2014
An excerpt from a letter I received last year. It put a broad smile on my face:
" I have been to Paris and loved you show in the cave!  It was so nice to be down there with the photo's and escape from the heat and people!  Your photo's were really tranquil and calming
I really liked them all - I loved the light bulb and the way the plaster looks.  It looks like a painting.  I took a photo of some people sunbathing on concrete in Corfu a few years ago and when I got the photo printed there was a similar look of a painting.  I really liked that the subject looks so like it's been photographed but the rest has a look that is might not be.  A bit like some of the pictures in the Gerhard Richter show - I got told off for getting to close to one as I couldn't believe it wasn't a photo!  The hedgerow with the blue tarpaulin and the sky that is greyer above that was wonderful too and the window going from dark to colour of the curtain and white and then sky.  I also remembered you showing us the photo of your granddad and I had time to look a lot more at this, his and the other person's semi nakedness and all the objects around them - the person standing seems quite casual in his boxers from his stance but your granddad's face is so expressive and there is a painting or something at the bottom that must have some special significance to him/you and your family. 
I could go on for ages - I really, really enjoyed looking more than the Gerthard Richter show I think and am so glad I was able to go. "
Urthona Magazine, January 2013
Rodrigo Orrantia, November 2012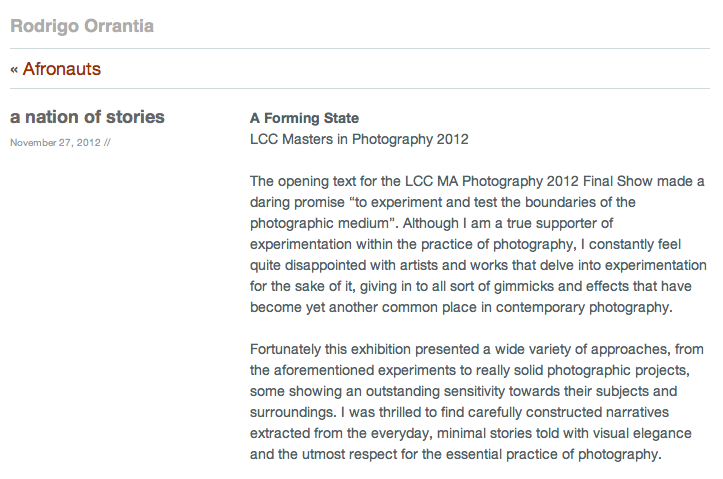 Réponses Photo, September 2012
 Air France Magazine, August 2012
 L'Officiel Galeries & Musées, July 2012
 L'Agora Des Arts, July 2012
MondiaPhoto, July 2012
Culture.Fr, July 2012
Pixfan, June 2012
Private Photo Review, June 2012
 Actuphoto, June 2012
Photosapiens, June 2012
Zoomup, June 2012